General Studies
The interdisciplinary education program of the General Studies at the University of Stuttgart is aimed at all students, university members as well as those in and around the city of Stuttgart, who are interested in continuing education, would like to participate in university life and deal with current scientific issues at university level. The General Studies thus functions as an interface between science and society, between university and city.
General Studies are committed to the Humboldtian model of higher education: Therefore, in addition to link areas of knowledge and promoting dialogue between the individual scientific disciplines, it also aims at passing on qualifications from other fields and basic skills (social, cultural and ethical competencies).
The General Studies offer a look beyond the border of one´s own field.
All events and programs of the General Studies are voluntary on principle. This allows students to bring in their own ideas into their studies, without ties to professional or economic interests.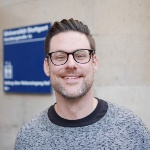 Daniel Francis, M. A.
Head of the General Studies and Guest Auditor Studies